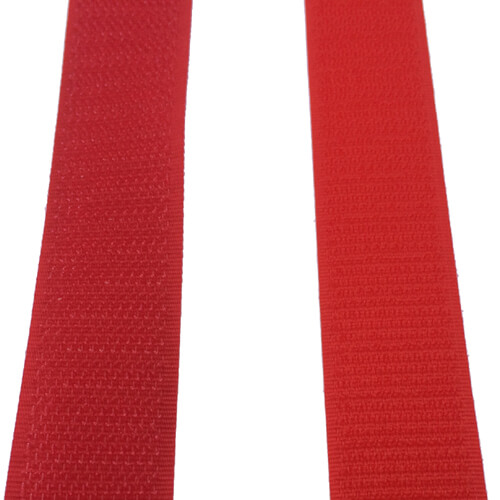 When using self-adhesive confirming that you have a genuine VELCRO® Brand fastener is generally very easy as the release paper on the back is covered in the VELCRO® trade mark, but when it comes to sew-on tapes that is not the case.
The picture shows a strip of unbranded red hook and loop on the left and a strip of genuine VELCRO® Brand on the right, instantly you can see a colour difference and when in front of you the quality really does show through, colours are the easiest to tell, but black and white also have differences.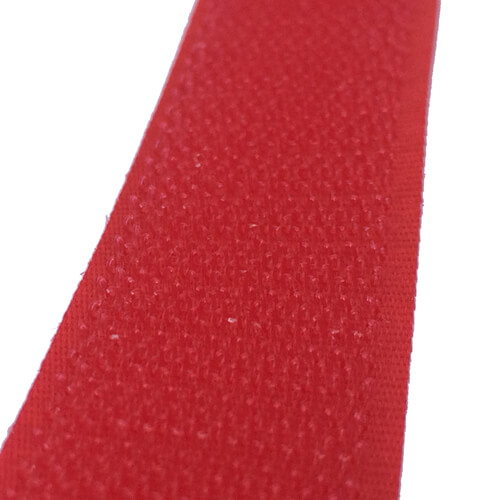 The image shows a strip of un-branded but premium sew-on hook tape in red, in all the colours we have seen of hook and loop tapes all the coloured options are a shade different from VELCRO® Brand, the red is darker, Navy is often very dark, but one of the easiest ways of telling them apart is when you look at the hooks on the tape, even on black 99% of the unbranded tapes have very pale tips on the end of the hooks.
The tape is an even colour but the hooks almost always loose their colour. Another way is to feel the tape, many unbranded options are firmer that the leading brand, you can almost fold a line in to some, this makes sewing hard and often ends with broken needles.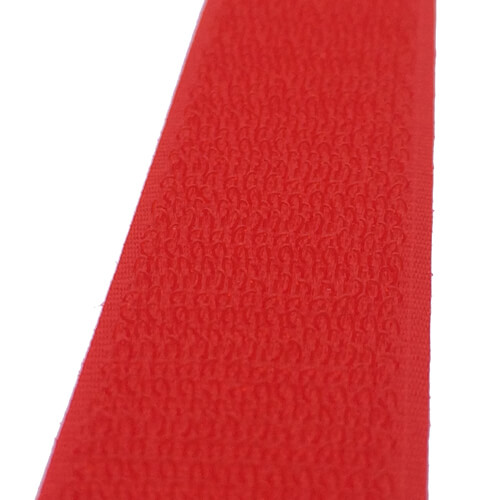 This image shows the strip of genuine VELCRO® Brand, even in the picture you can see the hooks are all uniform in shape, and that the colour is more Ferrari red with the solid colour the same on the sew strip as it is on the very top tip of the hooks.
VELCRO® brand sew-on is also softer that is not as aggressive to the touch, this makes sewing much easier.
The loop side of the tape is also often very easy to tell apart from many unbranded versions. VELCRO® loop is very soft and fluffy, often when supplied on rolls the loop is on a slightly larger card so that it is not wound to tight, keeping the loops lifted and not squashed flat. Un-branded rolls in all that we have seen are often very flat and nowhere near as soft as the leading manufacturer.

One of the biggest problems is that generic hook and loop is imported from many different manufacturers, whereas VELCRO® Brand is made by Velcro Industries by their own factories throughout the USA and Europe, this gives them complete control over quality and ensures that every hook and loop is woven the same way. Only VELCRO® Brand offers a consistent fastener that is of exactly the same quality on every batch.