One Hour Delivery Window
Designed ensure first time delivery success our courier partners provide a specific one hour delivery window, so you no longer need to wait in all day for your parcel, improving your delivery experience and giving you back your day.

You are given a one hour delivery window, notified of this via text or email
If not convenient you can use the text or email to change the delivery date, or choose 'deliver to neighbour.

You can also, follow your parcel, this enables you to view the progress of your parcel on a map, and they can even supply a notification when they are just 15 minutes away. All orders that are sent via courier use this service, for notifications via text please also provide us with a mobile phone number when ordering.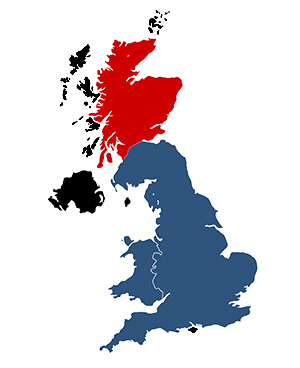 Delivery is on a standard charge system, this way you kow exactly what an order will cost before you go through to the shopping basket, our rates are simple and we believe some of the fairest of all, we also offer free UK mainland delivery on orders over £100 Excluding VAT (£120.00 Inc VAT)

Order Value under £10.00

• UK Mainland Delivery Charge: £2.40 (Blue & Red Areas) Via Royal Mail 24 Business Post

Order Value under £30.00

• UK Mainland Delivery Charge: £5.00 (Blue Areas) Via Royal Mail 24 or 24 Business Signed for™
• Highlands Delivery Charge: £5.00 (Red & Black Areas) Via Royal Mail 24 or 24 Business Signed for™
• N. Ireland Delivery Charge: £10.00 (Grey Areas) Via Royal Mail 48 Business Signed for™

Order Value between £30.00 & £120.00

• UK Mainland Delivery Charge: £6.50 (Blue Areas) Via Courier or Royal Mail Signed for™ (depending on order)
• Highlands Delivery Charge: £8.95 (Red & Black Areas) Via Two Day Courier or Royal Mail Signed for™ (depending on order)
• N. Ireland Delivery Charge: £12.95 (Grey Areas) Via Two Day Courier or Royal Mail Signed for™ (depending on order) - £24.95 on Orders Between £99.99 and £500.00

In most cases your order will be sent via Courier Next Working Day, once we have received your order and it has been processed for dispatch you will be sent an email that will include details on how your order has been shipped, including any tracking information where available.

All items marked as In Stock are available for immediate dispatch and the cut-off time for same-day dispatch is 2pm Monday to Friday. Items that are not marked as In Stock are generally dispatched within 1 working day.

We also deliver to the following European Countries; Austria, Belgium, Bulgaria, Cyprus, Czech Republic, Denmark, Estonia, Finland, France, Germany, Greece, Hungary, S. Ireland, Italy, Latvia, Lithuania, Luxembourg, Malta, Netherlands, Poland, Portugal, Romania, Slovakia, Slovenia, Spain & Sweden.

• Order Value of £20.00 and under has a Delivery Charge of £11.50
• Order Value of £20.00 and £100.00 has a Delivery Charge of £17.95
• Order Value over £100.00 has a Delivery Charge of £44.95