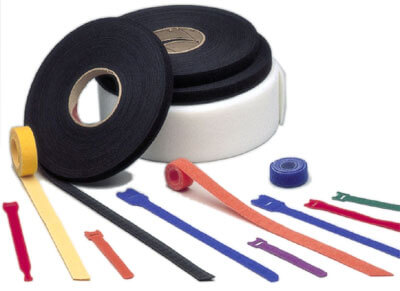 VELCRO® Brand Hook and loop fasteners are constructed from of two different pieces of nylon, one side acts as the "loop" (softer to the touch) the other side is the "hook" together these create a strong closure, whilst pulling the strips apart directly is easy, trying to separate them any other way is very difficult. Hook & Loop fasteners can be so strong that a two inch square piece is enough to support a 79 kg person. The strength of the bond however depends on how well the hooks are embedded in the loops & how much surface area is in contact with the hooks, along with the force pulling the two pieces apart.

If Hook & Loop is used to connect two rigid items together for example and picture frame to a wall the bond is very strong as any downward force is spread across the entire surface of the Hook and Loop sections, this only enforces it's strength by engaging more hooks into the loop, but by peeling the frame away from the wall, removal is relatively easy.

On garments and footwear, where hook and loop is used as a strap or pocket closure, opening is easy as a peeling action is used, this pulls each hook from the loop in smaller sections.

VELCRO® Brand fasteners are now found in various sizes, types and colours, although most commonly black or white in the adhesive range, in sew-on almost any colour is available.